Snow Shadows [Signed Lettered (#S) Traycased Edition] Mick Garris
Stock Status:
available to order
Details
LETTER S
Snow Shadows (Cemetery Dance Novella Series #24)
by Mick Garris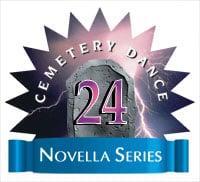 Cover Artwork by Les Edwards
Interior Artwork by Lorry Stone
Traycased Hardcover Lettered Edition of 26 signed and lettered copies bound in leather and Smyth sewn with a satin ribbon page marker
About the Book:
Nicholas, a painter and teacher at the Ravensbrooke Youth Academy for the Arts, is having difficulties in his marriage. He also fears he's losing his artistic inspiration. A brief dalliance with a fellow teacher doesn't solve his problems—especially when Miss Featherstone takes the affair more seriously than he does.
Enter David Sutcliffe, a young and gifted student who imagines himself as the true object of Miss Featherstone's affections. His jealousy causes him to view Nicholas as a rival, and the boy becomes increasingly unhinged as he seeks to eliminate the competition.
Snow Shadows is an unusual and haunting story of love and obsession, with many shocking surprises along the way.